LBJ Ranch Texas White House
Client: U.S. National Park Service
Site: Johnson City, Texas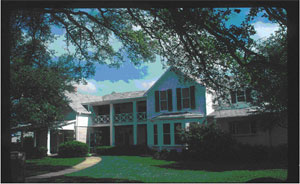 Once a humble home, the Texas White House grew as Lyndon B. Johnson became larger in politics. The assassination of President John F. Kennedy changed the house into a small fortress—which remains part of the interpretation and guest experience today. No modifications for ADA compliance were made to the Texas White House because wheelchair-bound Lady Bird Johnson had made the house work for her. Leaving that experience for guests is how the NPS interprets life at the Ranch. The National Park Service hired the team comprising the Collaborative inc. and Chamberlin Architects to provide this Historic Structure Report (HSR), which is a detailed evaluation of the Texas White House located in Lyndon B. Johnson National Historical Park. The term "1912 LBJ Ranch House" is used to differentiate between the current Texas White House and previous iterations, while encompassing the 1912 structure and all subsequent additions. The report includes a thorough historical analysis and statement of significance, a description of physical characteristics, and recommendations for treatment of this valuable historic resource to assist in retaining the integrity of the physical structure for its use into the foreseeable future as a Lyndon B. Johnson National Historical Park furnished historic structure for visitor use and interpretation which assists in conveying the story of the presidency.
As Johnson once stated:

"There's no other place, no Virgin Islands, no Miami coastline, no boat trips across the Atlantic that can do for me what this soil, this land, this water, this people, and what these hills, these surroundings can do...They provide the stimulation and inspiration that nothing else can provide."
The NPS´s task directive resulted in the incorporation of several elements that were addressed within the scope of producing the HSR, including, but not limited to the HSR, Cultural landscapes, environment impact statement, and general management plan.